Release date: 02 October 2018.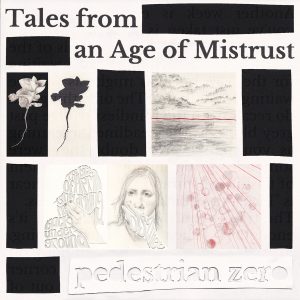 I didn't have a solid plan to record an EP. It just happened. I was asking Paul for recording dates and he gave me a consecutive Thursday/Friday/Saturday as options. So I said, why not all three and we'll record an EP? Smart, right.
I hastily assembled a "band" of sorts. In the beginning I actually asked a few different people and was envisaging different musicians on different songs. But in the end, it ended up being Paul, Ally (from strangeday), Phil James and Hannah for everything. Which I think helped give it a very cohesive feel as an EP, so that was probably good fortune.
The title had been hanging around for bit. I was idly considering writing an album with that title, but I figured I would use it for an EP instead. I wanted to try and convey some of the struggles I have going back and forth in my mind about modern life and how fortunate we are, mostly on the back of others' misfortune. (I realise I'm skimming over a massive issue with one sentence and that it's very complicated, but I'm sure you'll cope).
I already had some of the song titles: Weeds in the cracks, Disquiet, Tracer. The last song was originally going to be called Said No-one Ever…, but I couldn't make that work. So it became Time is Short.
As it goes, I ended up writing the songs in the order they appear on the EP and they loosely follow a story of an unamed protagonist who gets disillusioned, runs away, gets disillusioned and comes back.
I had the idea for Weeds in the Cracks whilst on the train home from London. I always get philosophical travelling about in London. I don't know why. But I was looking at the station platforms as we went past and saw the weeds in the cracks of the paving. And I figured it was a pretty good song title. I also had the idea to give the song a rhythm like a train and the speeding up at the end as if the train is leaving behind the stops of the city and speeding towards the countryside. The idea is that the protagonist is on a train thinking about everything and realises that they are complicit in the bad things they see around them. So they run away.
Tracer 192 was originally called Tracer. 192 was the original BPM. I wrote it down after the title and it stuck. Ironically the song is now at 190BPM, so the 192 in the title is doubly redundant. This is the protest song of the album. All of the things the protagonist is sick of with the world around, and yet feels an integral part of. I never saw this as the big rock banger it turned into. Paul had the initial vision and Ally came up with a huge riff. Phil rounded it off. I was actually out getting lunch while he and Paul came up with the intro.
Disquiet was the title (and a couple of lines) that I wrote earliest out of any of the EP. I liked the idea of "this quiet"/"disquiet". I wanted the third song to be a turning point musically and lyrically, and the idea is that running away and isolating yourself is not the solution you imagine it to be. So we went for something sparser, more acoustic and slightly desolate. Lyrically I decided to make this song more sparse than the other songs.
Time is Short was the hardest song on the EP to write. I really wanted to round it off with an anthem of sorts (especially having listened to All My Nameless Friends from Call Me Malcolm's I was Broken When You Got Here a lot by that point). But writing something that sums up the EP and works as an anthem is hard. I don't think I did too bad a job, although the woah-oh-oh refrain isn't simple enough for an anthem. Luckily the song itself is reasonably simple musically though. It turned out to be an unfortunately prophetic song title. We recorded drums and bass the first day, electric guitars the second day and acoustic guitar and vocals the third day – and literally at every point we were recording Time is Short we were up against it in terms of time. To round the song out, we did a group vocals day in the summer which was great fun and really finishes the EP off nicely.
Lyrically this song is a reflection on the fact that you can't really solve problems by just running away from them, and sometimes you have to remain part of the problem in order to try and make things better. I think a lot of people who see the bad things in this world often fail to acknowledge their own part in them, and that it's never as black and white as they'd like to portray it.
I'm really pleased with how this EP turned out in the end. There are always things you could do better or even just differently, but this worked well. El and Sam worked hard on all the artwork and we had a successful crowdfunder with different merch available. It's a disproportionate amount of work creating something like this compared with 4 singles (although I guess we never release the singles physically, which would complicate matters) but it was definitely worth it.