There is a post going round on the social medias at the moment… Actually, I say "at the moment", for all I know, it's been going round for years, but I digress… again… anyway, the post is about listing twelve albums that have "stayed with you" without "over thinking or trying to be cool" and then making other people do it so that it perpetuates itself in the manner of DNA. I don't know why twelve albums and not ten. Perhaps because you go back in time to think about the albums and Bruce Willis goes back in time in Twelve Monkeys?
I believe I have expressed my dismay at social media in general, but allow me to do so again. DISMAY. This one did make me ponder though, so I decided to do my own version on here, in my own way by actually explaining my choices a little – this basically means less people will read it, but I am very ok with that. Hi mum.
I'm not exactly known for under thinking things, so no promises there. And we all know that I don't need to try to be cool, so we're good there. Ho ho.
I will briefly say at this point that I do feel in certain ways my teenage years – which should be a time for glorious musical exploration – were a little hindered by a decision to "only listen to christian music". I'm not going to explore that decision here (not yet, at any rate), but I think it was misguided and full of hypocrisy – fortunately as it turns out – in that I somehow managed to still listen to a fair amount of all kinds of music. But to my mind, at least, not enough.
I've decided to limit this list to only pre-2000 music (or music I heard pre-2000 I should say) as "staying with me" implies some kind of longevity. Also that makes this easier, to a certain extent.
So, in absolutely no order whatsoever:
Nirvana – Unplugged in New York

Sadly, I first listened to Nirvana post-1994, courtesy of a copied tape of Nevermind that my dad had. This album remains my all time favourite Nirvana album. I had a copied tape of this (I have since bought the CD *and* DVD, you'll be pleased to know) given to me by a girl I liked. Better people than me have written better things than I could about this album, but I think it's gorgeous and vulnerable and amazing.
dc Talk – Jesus Freak

Given what I said earlier, this might seem a little bit of a lame and obvious choice as it's probably one of the biggest christian albums of all time. However, I was gobsmacked when I first heard it, and I still love the songs. There's some weird bits, and some cheesy bits, but it's still a great album.
Peter Gabriel – So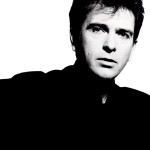 This was another of my dad's cassettes that got a LOT of plays on the old walkman. Again, a pretty obvious choice, being PG's "brief intersection with the life of pop stars", but that's the way it goes. I first paid attention to Peter Gabriel as a result of Red Rain on the Rainbow Warriors album (more of which next) and this was the album with Red Rain on it.
Various – Greenpeace: Rainbow Warriors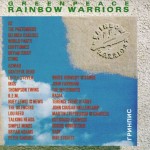 This is perhaps the maddest choice – a compilation album. But honestly, listening to this album was one of the first times I can remember thinking that this was what I wanted to do with myself. And there's some corking tunes on here. Very 80s, which I'm generally not so fond of, but I'll make an exception this time. And did I mention this was another cassette filched from my dad's study? Doesn't seem to be online, but I did the legwork for you and made an Apple Music playlist. Couldn't find Balance by Little Steven & The Disciples of Soul though. EDIT: My dad made a spotify playlist in case you don't Apple. It doesn't have Little Steven either, but it also doesn't have Peter Gabriel.
Paul Simon – Graceland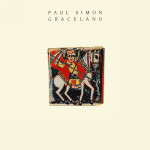 Someone asked me in 99/00 whether I'd heard Graceland. I said I hadn't and was duly lent a copy, only to find out I knew it very well. I can only assume from it being played in the house/car when I was younger. I can always go back to this and enjoy it. Yes yes.
Radiohead – OK Computer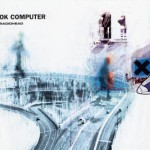 I'm a fan of all stages of Radiohead. And I think all of their albums will follow me around, but OK Computer still has a special place. There's a reason it gets held up again and again as an all time great album. The one-two punch of Electioneering followed by Climbing up the walls gets me every time.
Model Engine – The Lean Years Tradition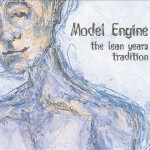 Having bemoaned my teenage music embargo, it did lead me to some of my favourite ever albums, so, as ever, it's swings and roundabouts. Model Engine were pretty short lived, unfortunately. This was their only album (although they recorded another album and an EP in an earlier incarnation, Black Eyed Sceva), but it's an utter stunner. Full of smart lyrics and clever music, there's not a bad song on here.
Switchfoot – The legend of chin

As with Radiohead (and Five Iron Frenzy – see below), it's theoretically tricky to pick just one album for Switchfoot. But my limiting this to pre-2000 helps. And in any case, this album is a winner. It's forever linked with summer in my head for some reason. And it's just full of great songs that never get old.
Meat Loaf – Bat out of hell II: Back into hell

I don't remember when or how or why I had this tape, but it was one of the earlier albums I owned and I loved it. Sure, some of it is cheesy as hell (cheese out of hell?) and some of it is inexplicable (Wasted youth anyone?), and of course I imagine the first Bat out of hell is regarded as the classic of the two, but this popped into my head again recently and I had a listen and it's still a stupidly splendid album. So it makes the cut.
Poor Old Lu – Sin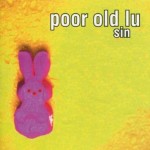 Might be running out of steam with the descriptions. Or maybe just running out of adjectives. Hopefully I haven't repeated myself. Hopefully I haven't repeated myself. Anyway, Poor Old Lu are a long time favourite of mine, and I bought this album without having listened to it (I did read a review) and was instantly pleased that I did. It's very engaging from start to finish and the guitar solo on Sickly is one of my favourite ever.
Five Iron Frenzy – Our Newest Album Ever!

Pretty much my all time favourite band. This was the first album I owned of theirs and I think the first album ever (possibly the only album ever) that I could sing to myself all the way through without the album playing (got me through a lot of long hours working at McDonald's I can tell you). I think their latest album might just be my favourite, but this one will always be special. And the artwork is baller.
Elliot Smith – XO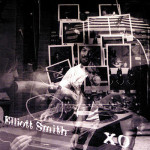 Ok, I'll admit it, this is a bit of a cheat. I heard Waltz #2 when it was Mark and Lard's song of the week (they were Radio 1 DJs back in the day, remember that?), but I don't think I bought the album until after 2000. Whatever, this is a hauntingly beautiful album and Waltz #2 is almost as perfect a song as I can imagine a song being.
Well there you go. It's good to note that this list differs from my top ten albums. But that's definitely a matter for another post. I would like to also mention The Beatles here. My parents had the "red" and "blue" albums on vinyl and I played them a lot. And a lot of those songs have stayed with me, but I can't say that those albums in particular stayed with me.
Bosh, done.
(All artwork images assumed to be fair use. Copyright remains with the original artist or publisher, except the cover of Graceland which is considered to be public domain)