9am

Luckily Paul had all of the drums set up, so we just needed to cable them, line check them and set all the gains and we were off. A combination of a slightly late arrival and a bit of chatting meant that recording started around 10am. But within half an hour the drums were finished and now we've moved on to packing down ready for the bass.
11am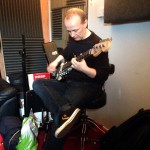 We had a bit of a special treat because Si from 3dBs Down had agreed to come and play bass on the track. He'd written some beautiful parts and they've taken the track to a whole new and splendid place. All done and dusted in around an hour. Marvellous.
1pm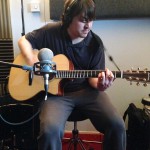 Bit of editing and setting up and we're off with the acoustic. Hoping to do the drums and bass some justice with my playing. We'll see…
2pm
Acoustic all done. Feeling very pleased, and everything's going pretty well so far. Off to pick up some lunch while Paul sets up for the electric guitar.
3:15pm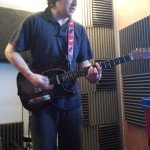 Managed to borrow a beautiful telecaster for the electric guitar from an open mic regular, Dave. For some reason as a teenager I couldn't stand telecasters, but I absolutely love them now. Tone is sounding huge and the part is adding loads of energy.
4:30pm
All done. That was better than I expected. Partly because the tele was such a joy to play. Vocals next. Paul made me warm up using this video. I know it's good to do but warming up really bores me. But I went for it anyway. Not sure I did the last exercise very well, but hey ho.
5:10pm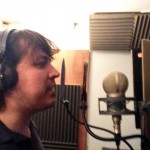 My vocals are done. That's all of my parts. Just backing vocals from Cec and Paul to do now and we're all done. Time for a beer I think. To the south!
7:00pm

All done bar the shouting. And by shouting I mean Paul's vocals. He's doin' em tomorrow. That was a fun day.